The idea of Mumbai Metro 3 CarShed at Kanjurmarg proposed by Hon CM Uddhav Thackerayji by integrating line 3 & line 6 is already rejected by the expert Committee set up by Hon CM himself!
Here's how Aarey land was the only feasible option to complete the Mumbai Metro project in time, at a reasonable cost & how the environmental impact mitigation made it sustainable.
𝐈 𝐚𝐦 𝐩𝐫𝐞𝐬𝐞𝐧𝐭𝐢𝐧𝐠 𝐌𝐕𝐀 𝐆𝐨𝐯𝐞𝐫𝐧𝐦𝐞𝐧𝐭'𝐬 𝐯𝐞𝐫𝐲 𝐨𝐰𝐧 𝐝𝐨𝐜𝐮𝐦𝐞𝐧𝐭𝐬.
Attached is the ToR (Terms of Reference) wise findings of ACS Manoj Saunik led Committee, appointed by the present MVA Government.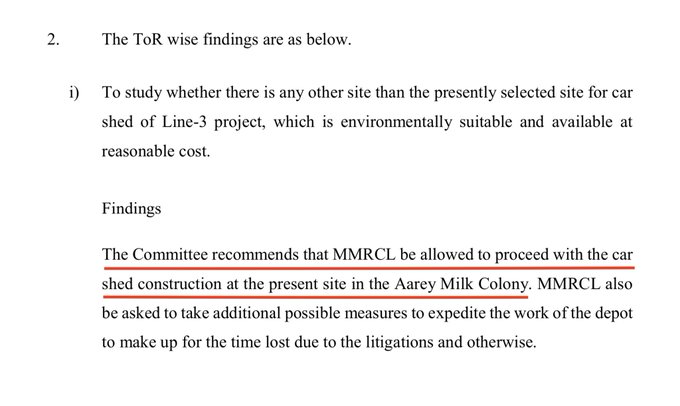 Aarey CarShed was planned as green facility with factors like reducing carbon footprints, solar panels, waste water treatment & recycling, LED lighting to reduce energy consumption. (Document attached is from the report of MVA Government Committee).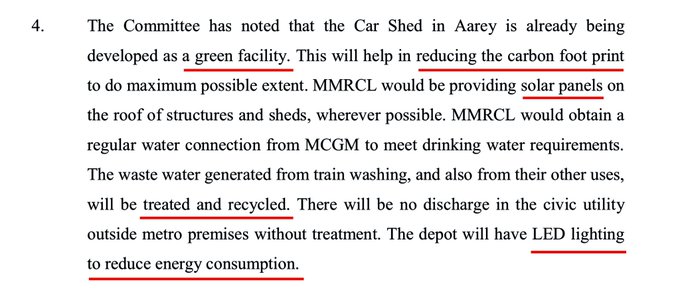 This is how the further delays will lead to more increase in carbon emission and why Aarey site is environmentally more beneficial than impact caused by felling of trees.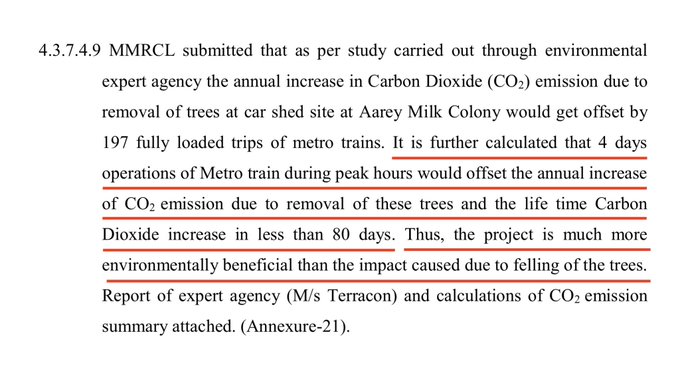 Our earlier Government in 2015 considered the Kanjurmarg option but due to delays & multiple litigations it was finally decided to give up.
The attached references from MVA Government committee makes the point even more clearer.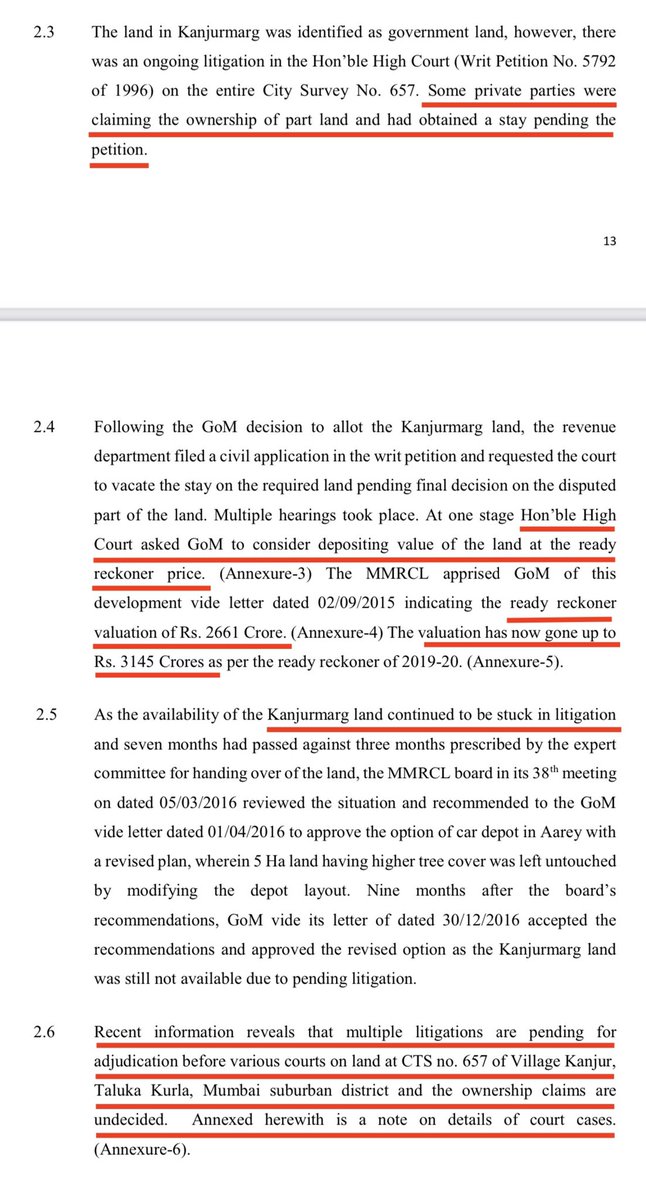 What we get to know from the site inspection report by Resident Deputy Collector – RDC (Additional Charge), Mumbai, dated 17th January 2020 about Kanjurmarg land, is that it was still under litigation.(Document attached).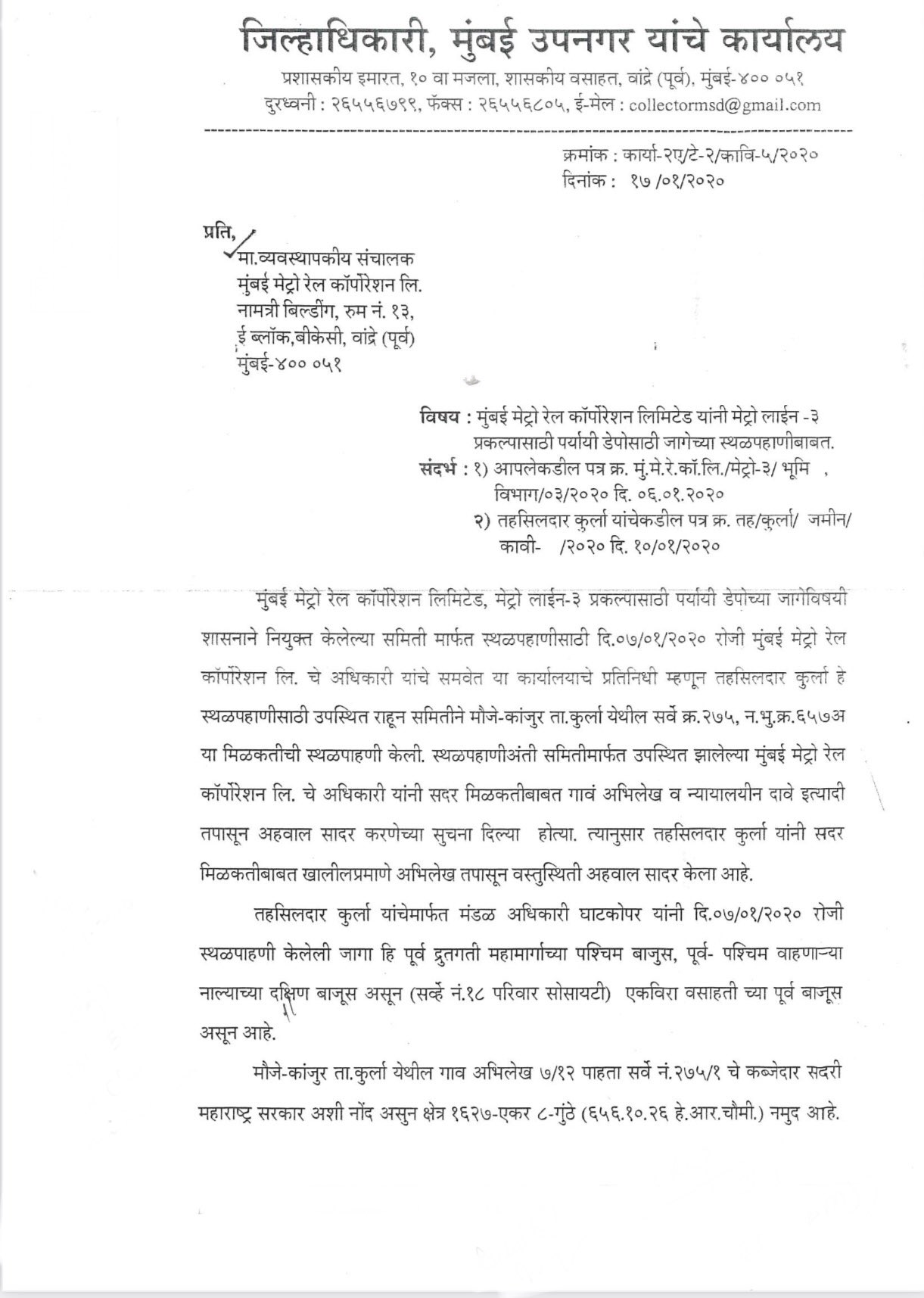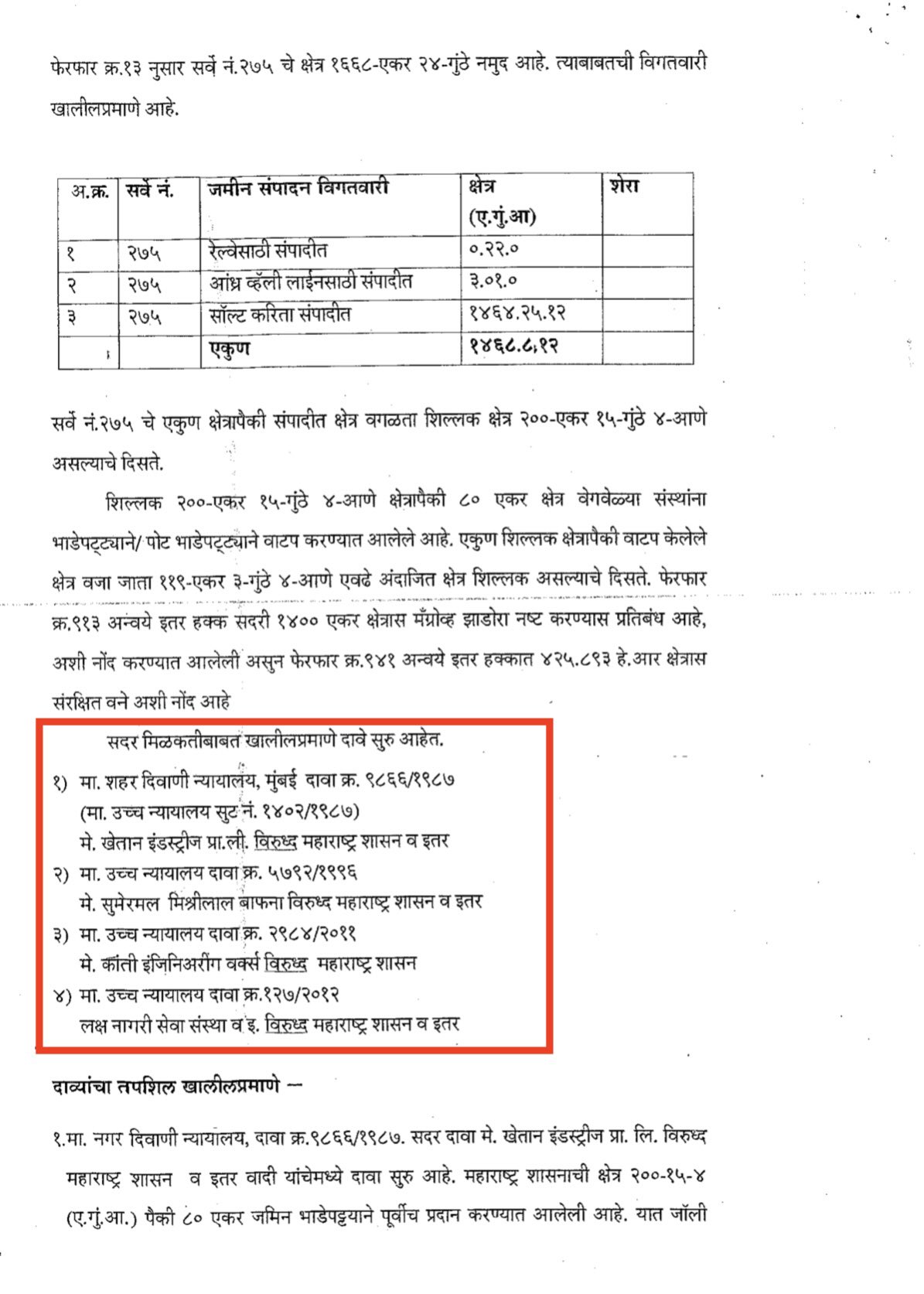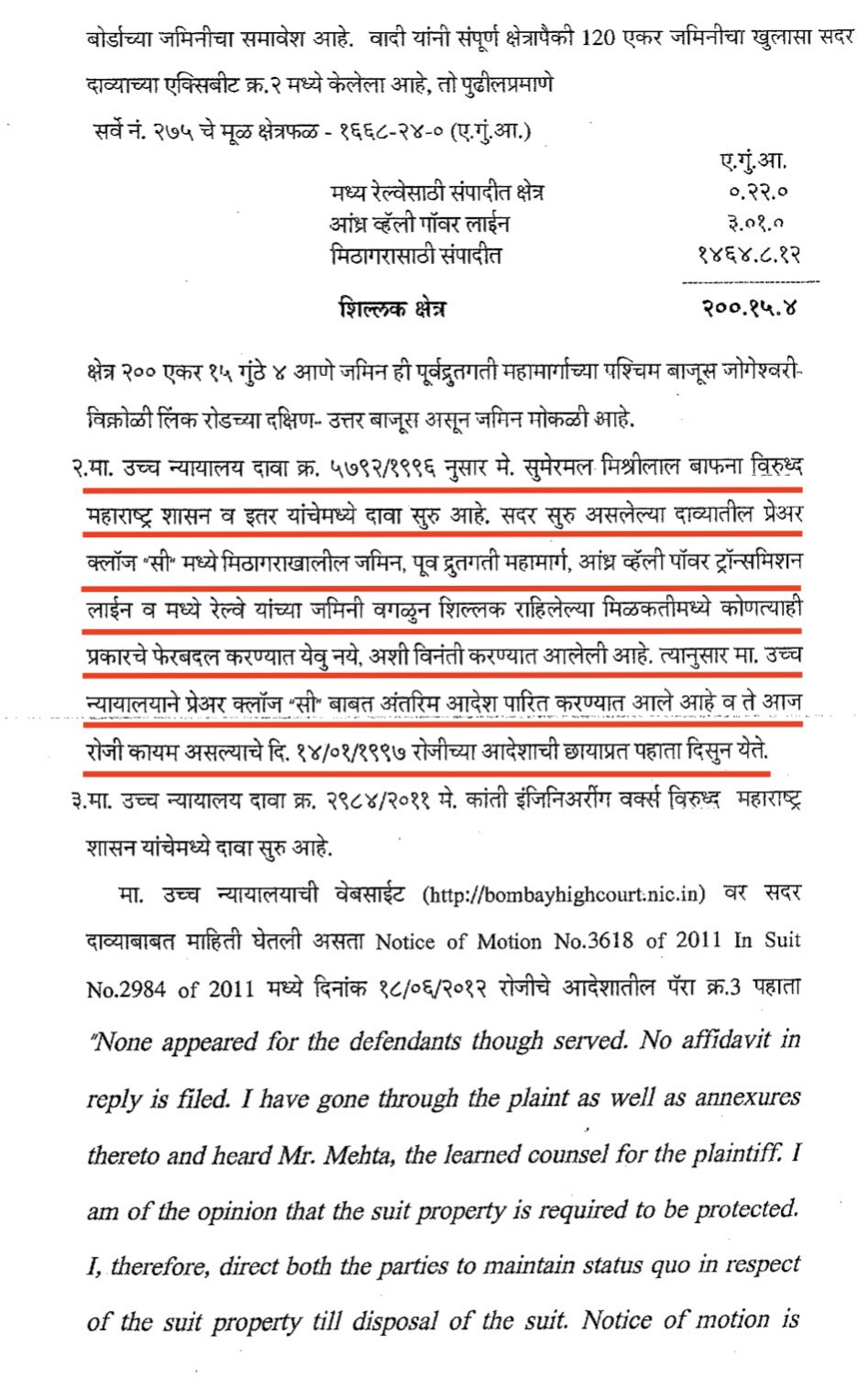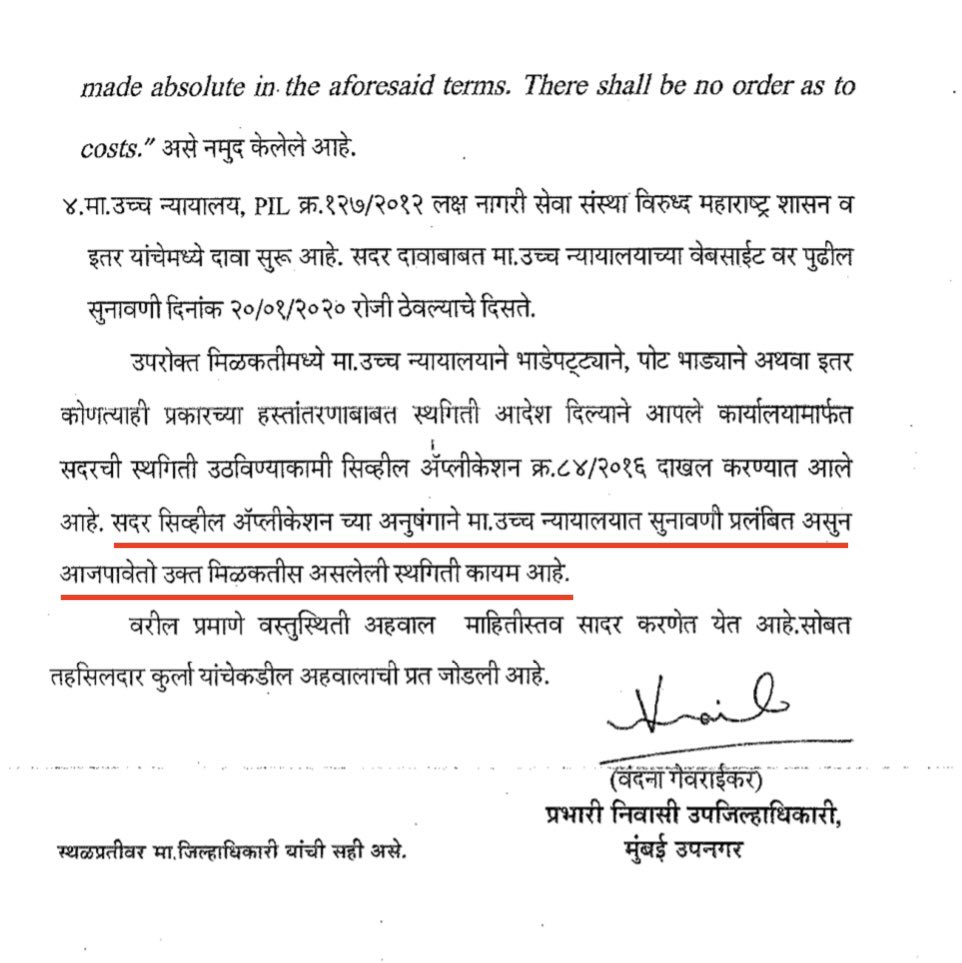 If Kanjurmarg land selected,complications like need for significant changes in MetroLine6 need to be understood.Ongoing works need to be suspended immediately,right from review to redesign to reconstruction need to be done.Moreover,question on possible operationalisation remains!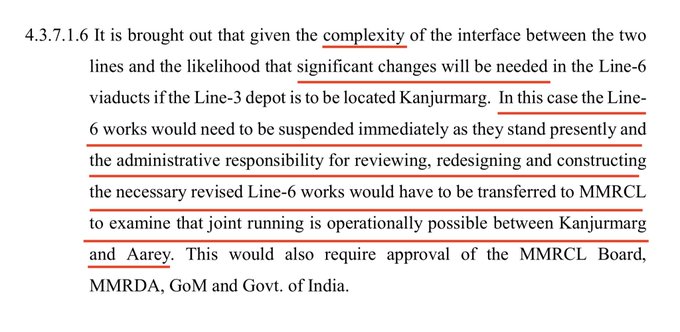 Worst suffering for Mumbaikars will be that Metro which was scheduled to be commissioned in December2021,will be delayed by 4.5long years!
Additionally,looking at present conditions of Kanjurmarg land,ground improvements&filling works need 2years,that too after award of contract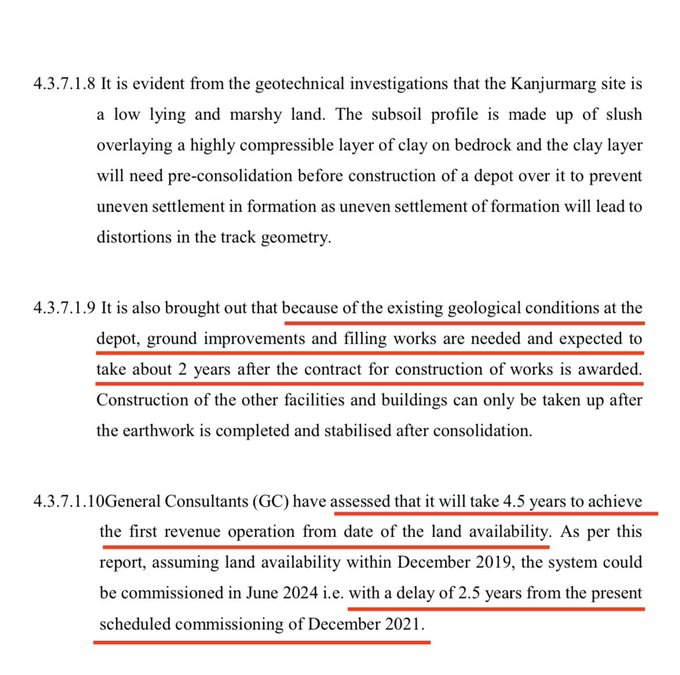 Huge changes will be required in tenders & contracts and just imagine the cascading impact from the list given below…#MVAbetrayMumbaikars pic.twitter.com/UUQF1yqhB8

— Devendra Fadnavis (@Dev_Fadnavis) October 14, 2020

Shifting of depot at Kanjurmarg would not fully address the requirements of line 3 and it will hamper the frequency of operations of both, line 3 & line 6.

Running a mixed stock of trains on the Aarey to Kanjurmarg portion of line 6 is bound to lead to operational complexities on line 6 and would also hamper line 3. This will affect operational efficiency of both the lines and cause operational losses too.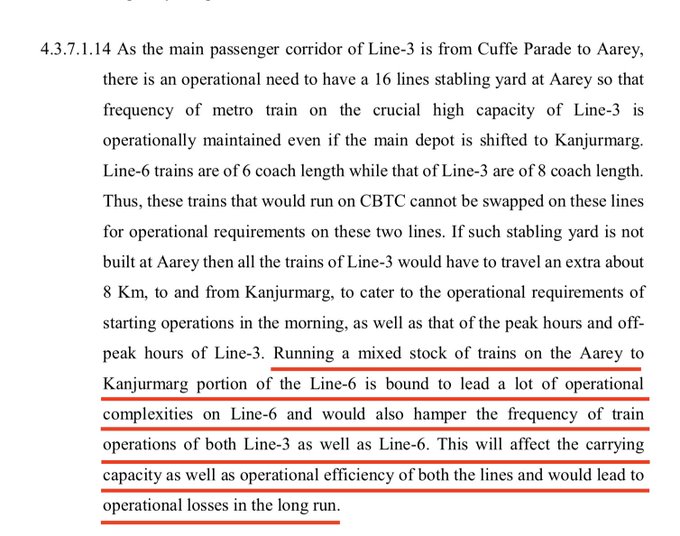 𝐇𝐮𝐠𝐞 𝐛𝐮𝐫𝐝𝐞𝐧 𝐨𝐧 𝐆𝐨𝐌 𝐝𝐮𝐞 𝐭𝐨 𝐜𝐨𝐬𝐭 𝐞𝐬𝐜𝐚𝐥𝐚𝐭𝐢𝐨𝐧
All cost escalations due to delays, change of scope & relating to time cycle are to be entirely borne by GoM as per the tripartite MoU.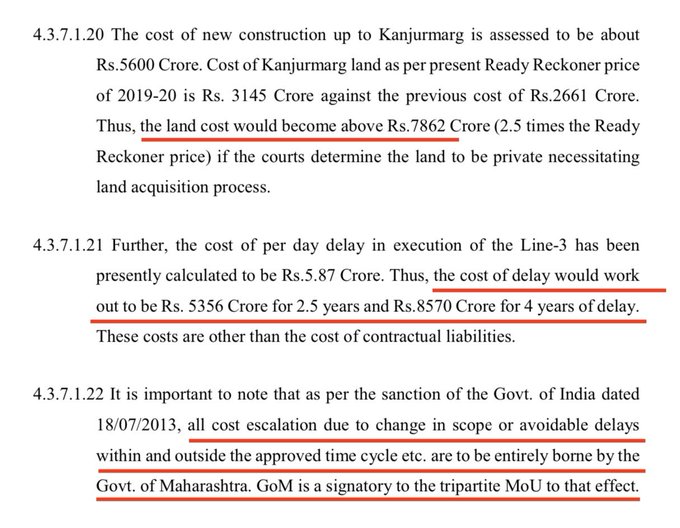 Here is the chart showing overall assessment of the losses to the economy due to long delays (by Committee appointed by MVA Government).#MVAbetrayMumbaikars pic.twitter.com/QGyN9BCcJQ

— Devendra Fadnavis (@Dev_Fadnavis) October 14, 2020
𝐍𝐞𝐰 𝐊𝐚𝐧𝐣𝐮𝐫𝐦𝐚𝐫𝐠 𝐬𝐢𝐭𝐞 𝐂𝐥𝐞𝐚𝐫 𝐥𝐚𝐧𝐝 𝐧𝐨𝐭 𝐚𝐯𝐚𝐢𝐥𝐚𝐛𝐥𝐞
𝐅𝐮𝐫𝐭𝐡𝐞𝐫 𝐞𝐧𝐯𝐢𝐫𝐨𝐧𝐦𝐞𝐧𝐭𝐚𝐥 𝐝𝐢𝐬𝐭𝐮𝐫𝐛𝐚𝐧𝐜𝐞
𝐚𝐟𝐟𝐞𝐜𝐭𝐢𝐧𝐠 𝐛𝐢𝐨𝐝𝐢𝐯𝐞𝐫𝐬𝐢𝐭𝐲
𝐌𝐮𝐦𝐛𝐚𝐢𝐤𝐚𝐫𝐬' 𝐢𝐧𝐜𝐨𝐧𝐯𝐞𝐧𝐢𝐞𝐧𝐜𝐞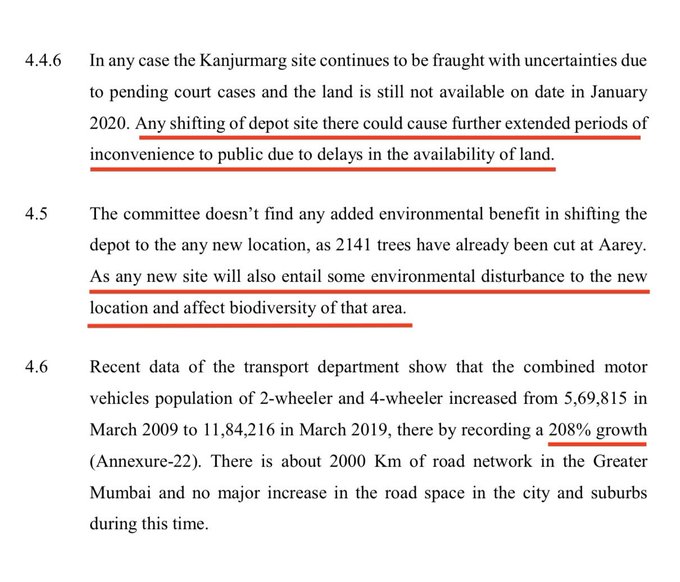 Even the letter by Mumbai Collector dated 1st October 2020, of handing over of Kanjurmarg land, mentions that all cost arising from pending litigations shall be borne by MMRDA.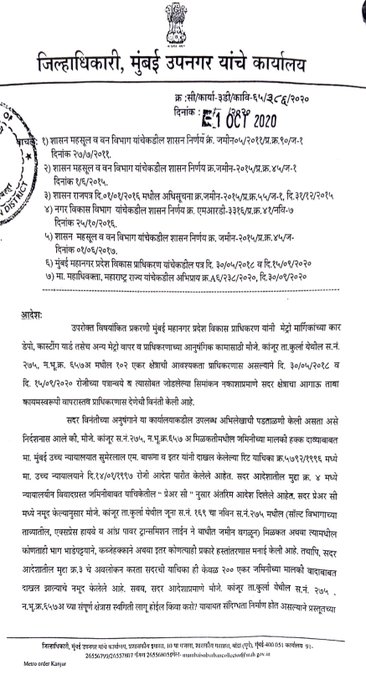 Finally, I say that…
I respect all the environmental activists and want to emphasise that CarShed at Aarey was decided when there was no choice left.
But now, how would these activists justify CarShed at a salt pan land with mangroves & that too on a reserved forest
𝐂𝐌 𝐇𝐨𝐧 𝐔𝐝𝐝𝐡𝐚𝐯 𝐓𝐡𝐚𝐜𝐤𝐞𝐫𝐚𝐲 𝐣𝐢 𝐬𝐚𝐲𝐬 𝐭𝐡𝐢𝐬 𝐢𝐬 𝐚 '𝐍𝐎-𝐂𝐎𝐒𝐓' 𝐩𝐫𝐨𝐩𝐨𝐬𝐢𝐭𝐢𝐨𝐧, 𝐛𝐮𝐭 𝐈 𝐰𝐨𝐮𝐥𝐝 𝐬𝐚𝐲 𝐭𝐡𝐢𝐬 𝐢𝐬 𝐚 𝐍𝐎-𝐌𝐄𝐓𝐑𝐎 𝐩𝐫𝐨𝐩𝐨𝐬𝐢𝐭𝐢𝐨𝐧 !
Because 76% tunnelling work for the project is already done but no car depot for next 4 to 5 years will be an endgame for financial feasibility of the project. Needless to say all cost escalations will be borne from passengers' pocket through tickets.