There is a debate going on the Social media that "TDP" is the saviour of Hindutva in Andhra Pradesh. Except for Informed citizens about TDP, many are falling to this Propaganda ?. Let us analyse TDP appeasements.
 Muslim Appeasement by CBN & TDP :
TDP as part of its minority appeasement policy decided to construct, not one but two Haj houses in AP.
Why do we need Two ? Because TDP wanted to prove as a Bigger Minority appeaser than YCP. What is the Cost of these Haj Houses ? 710 Crores. Literally, 710 Crores was allocated for building these Two Haj houses. Again why so much of Extravaganza ? TDP wanted to be a bigger Minority appeaser than YCP. Whats there in Building Haj houses ?
For a Population of 9 % who already has a mechanism of getting benefits through Hyderabad, CBN went above and Beyond to appease the minorities.

Minorities were smart in not choosing the Turncoat.
CBN and Christianity
Read this Article to understand the Christian appeasement of CBN.
Christian appeasement reached its peaks under CBN between 2014 to 2019 just to put a check to YCP.

Link : https://t.co/tmjFktfkcQ?amp=1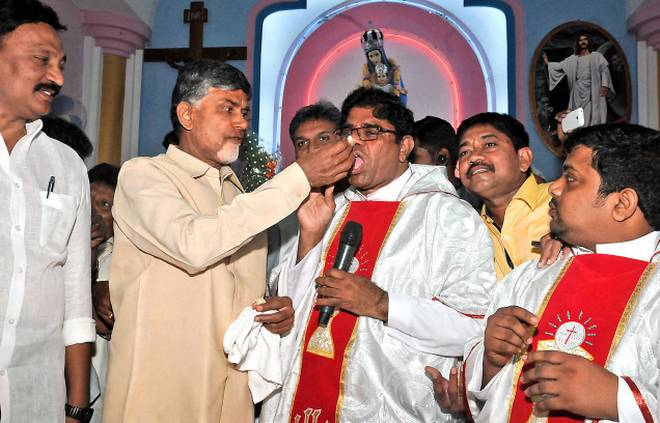 CBN and Christian Appeasement.
Here is the dossier of how CBN took the Hindus for granted and went above and beyond to appease christians .
CBN and Appeasement Over drive :
Naidu asked the Christian community to stand with TDP in the upcoming elections. He announced R.50,000 for poor Christian girl's marriage.

Link : https://t.co/wreucbCwhI?amp=1
SC Status for Converted Christians :
CBN said his government spent Rs.250 crores for Christians in four years and will continue to support converted Christians and keep fighting for them till they are provided with SC status.
CBN and Christian Bhavan :
"For Christian Bhavan, we gave two acres land and Rs 10 crores. Now, we are allotting additional six crores as per your appeals. We will provide full economic support for the construction of churches even without contribution.10. Optional Holiday on 24th December.

"We will give 24 December as an optional holiday. We will spend Rs 100 crores to develop burial grounds for Christians."
CBN – Increase of Allocation of Funds to Churches :
CBN increased the funds for construction of a church have been increased from Rs 1 lakh to Rs 3 lakh12.
CBN & Kingdom of God :
Kingdom of God did not arrive in AP in 2019, but it arrived in 2014.
Below is the statement of CBN which proves it.
Chief Minister N Chandrababu Naidu has announced that the State government would increase the financial aid to the Christians for the Jerusalem pilgrimage from Rs 40,000 to Rs 75,000.

Link: https://t.co/vHY0dETgFR?amp=1
CBN promised to ban the GO which banned Non Hindu propoganda near Hindu Kshetras. Who was the CM for AP in 2007 ? Below is the extract.
YSR had fear of losing Hindu votes, hence he banned non Hindu activities. CBN has fear of losing Non Hindu Votes, so he goes to any extent to get Non Hindu votes. Hindus shouldn't fall for CBN thinking he is a Hindu Saviour.
Now let us see whats the damage CBN made to Hindu Society .
We all know how the chief priest of TTD was humiliated and insulted in Public . A Specific GO was brought by CBN to remove the priest from the post.
You have to Pay for being Hindu in CBN's AP.
If TTD has to build a temple, there is no free land and subsidies. TTD has to pay 150 Crores to build a temple. Heard of Free lands, of its for the church, Link : https://t.co/7AawlWMCR4?amp=1
TTD Jewels Missing under CBN rule :
Famous Pink Jewel which went missing from Tirupati was found at Sothbeys auction, How did it reach there ? Wait for Yellows to argue that its just a stone?
Three golden crowns of Lord Balaji got stolen from Tirupati under CBN regime. There was no safety for Hindu Temples under CBN govt?
Poetic Justice – TDP MLA who abused Brahmins.?
TDP MLA – Bonda Uma who abused Brahmins during poll campaign lost by 15 votes. Uma threatened Brahmins in his poll campaign.
There are many countless examples of how TDP is considered as Anti Hindu and Anti Brahmin party in Andhra Pradesh. I will leave it to your wisdom if you still Think CBN and TDP are #Core There is a famous Russian saying – Trust, but Verify. Its up to you , if you want to believe in CBN and TDP, you are free to trust, but do verify
Author
Dinakar
Disclaimer: The opinions/facts expressed within this article are the personal opinions/facts of the author