Farmers Protests are obviously politically sponsored…!!
The protests are obviously politically sponsored. The farmers won't be negatively affected by new farm laws. The Govt has only added an additional selling channel for the farmers, which is completely voluntary
The MSP selling route is still open. The mandis, aadtis etc are still going to function as they were doing. It's just that the farmers have a choice now. Also there are dispute redressal mechanisms which will solve any disputes in a time bound manner. Another win.
Now lets come to general condition of agriculture in India. It's no hidden fact that farmers are not getting the returns they should be getting. Their crops get destroyed due to many reasons. If they have a bumper harvest, then the price dips.
After procurement, there's wastage of food grains too. All these can be solved by educating the farmers on which crop to be sown depending on climate, water availability, soil, demand etc. Over production of crop is also wasteful & under production will lead to price rise
An authority should be made which will plan how much production of a particularl crop is required depending on demand and identifies the areas suitable for its sowing. It can have various stakeholders like Central Govt, State Govt, Farmers, Consumer groups etc. in it.
Now about MSP. It's no surprise that MSP can be increased only upto a limit. If it's increased too much, then it will lead to an exponential rise in Food Inflation. But we need to compensate farmers too for their hard work. How can it be done? There are 2 ways to do that.
First is that Govt should offer subsidy to farmers. Through this method the market price of food grains remains low but farmers get additional income. This method is followed in all developed countries. In addition Crop Insurance will lead to complete solution for farmers.
The second is a cooperative model like Amul. In this the farmers become part owners. They can not only do value addition to their food grains but the profits generated are also redistributed to them. In addition, they become employment generators too as they hire workers.
In a country like India, neither the mandi model will work nor will the private party model. If farmers want to increase their incomes, instead of being at mercy of others like Govt or those who siphon off their profits, they will have to do something on their own.

How the new laws help farmers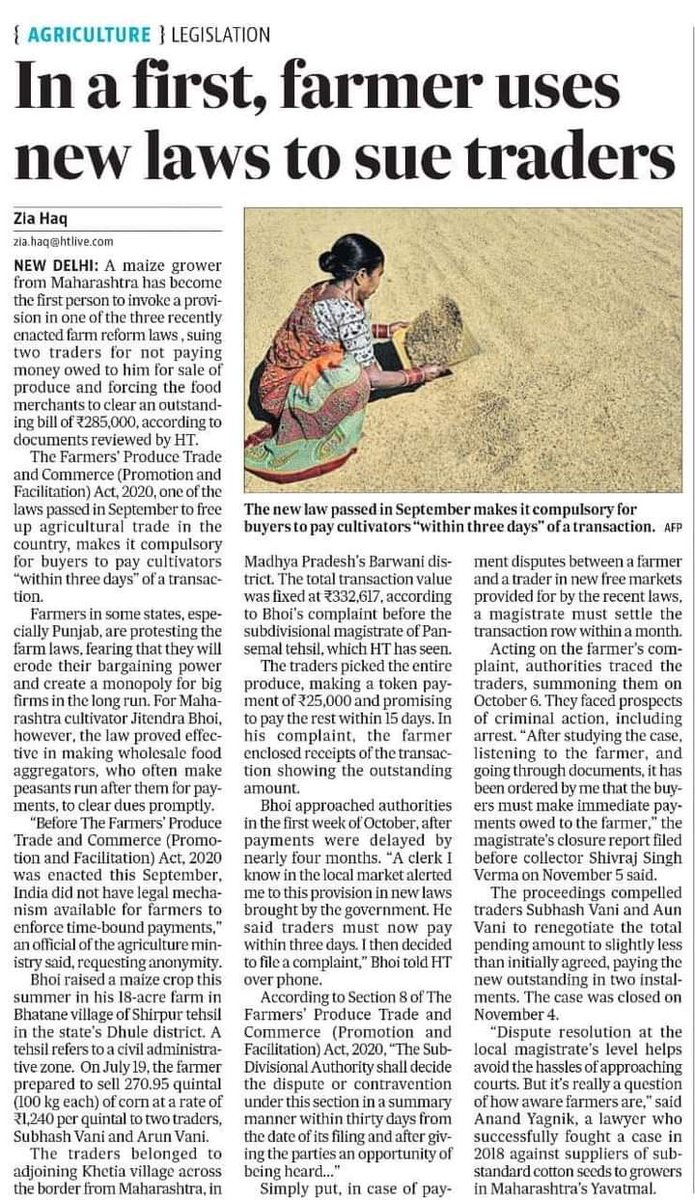 Author
https://twitter.com/TheRightster