So, here is a little something. I clearly made a mistake in trusting the pleas of goodwill made by Wikipedia founder Jimmy Wales. He repeatedly said that he can be an ally. Let me try and explain the manipulative scum that he really is

After the Delhi Riots and when OpIndia had exposed who was behind the skewed, anti-Hindu narrative on Wikipedia, there was considerable ire on Twitter. Especially, after Jimmy Wales and I got into an argument over it. 100s of people responded, calling out his bias
At that time, ultimately, Wales had asked me to email evidence to him and everything I had on how the Delhi Riots page was manipulated. When I asked him for his email address, he DMed them to me. But along with the email addresses, he messaged saying how he could be an ally
He said that there is a "mob" after him who thinks he is anti-Hindu and pro-Islamist, which isn't the case. And he is willing to look into the evidence in good faith. He also said I could help him by assuaging people on social media, angry after my report.
This is where I made a mistake. A wrote a tweet saying that he was gracious enough to share his email address and that he has assured action will be taken. I still didn't defend him as he wanted because I obviously don't trust white supremacists like him.
I generally never tweet screenshots of personal messages, but since @jimmy_wales has called me a Nazi, it's only fair that I expose what a lying coward he really is.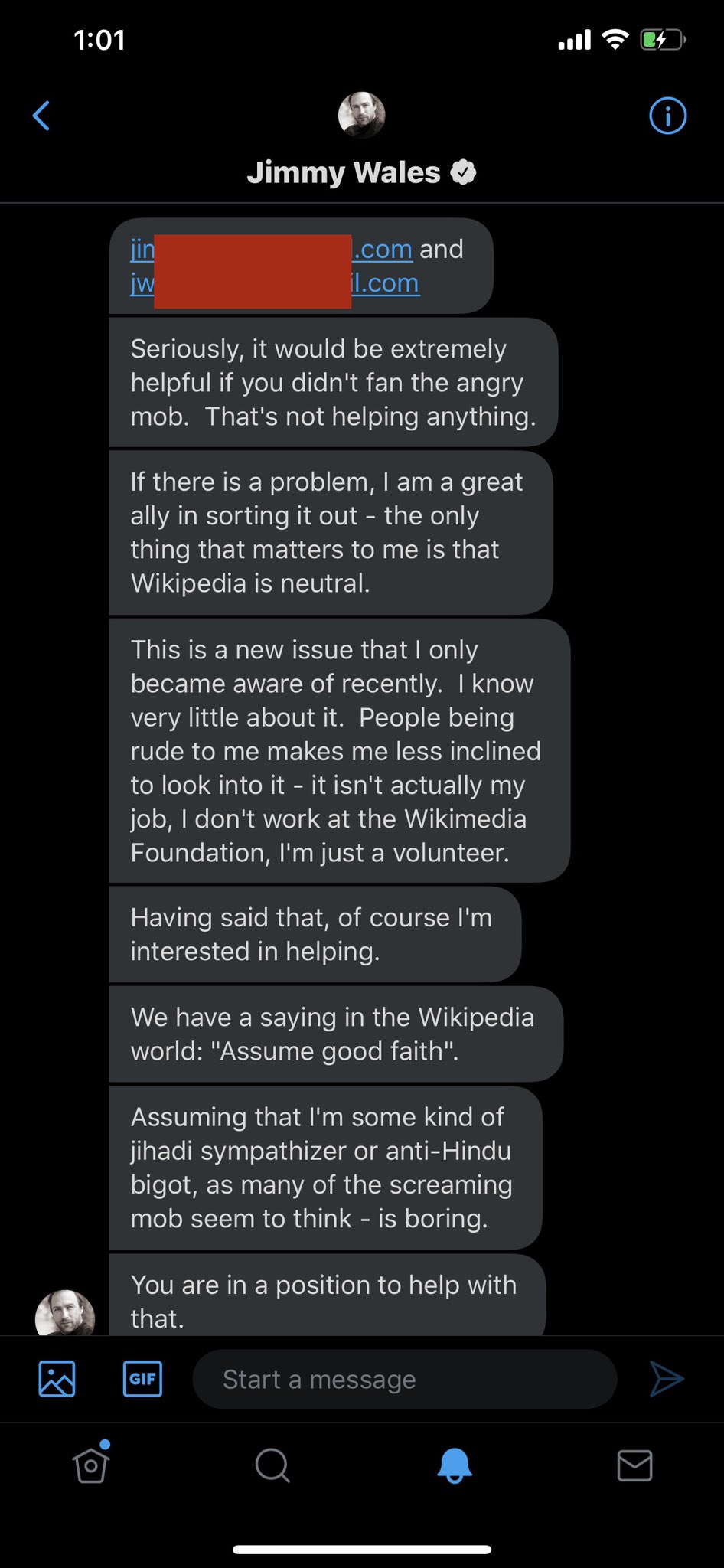 I have Jimmy Wales the benefit of the doubt. I assumed that people around him, who advise him on such issues may be idiots and he might have a genuine will to set things right. Till then, I had not sweepingly called Wikipedia bias as an institution. Only it's editors.

I emailed him, as he had asked, over 5000 words explaining the entire issue to him. Explaining how Delhi Riots page was biased. At the truth is. Who people behind the bias were. All of it. This was 5th March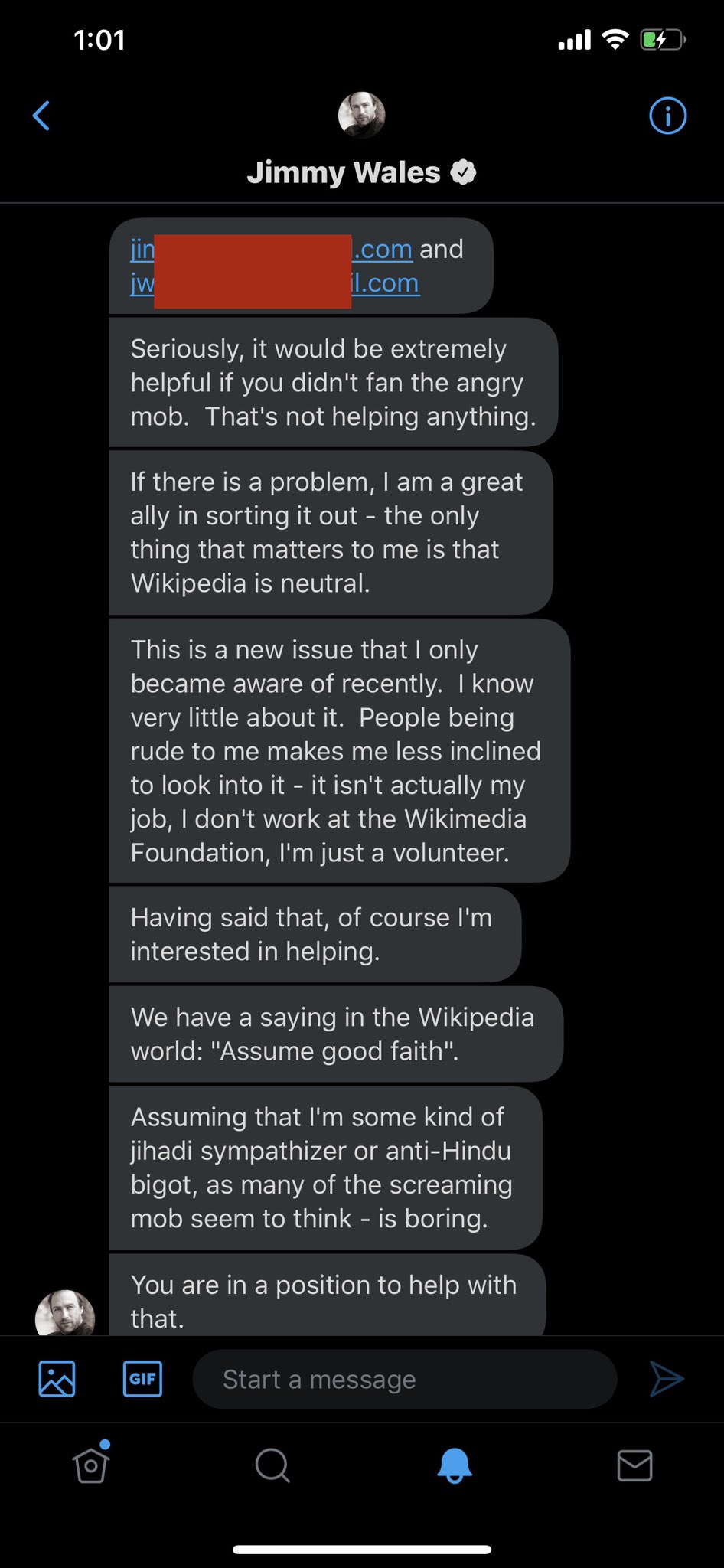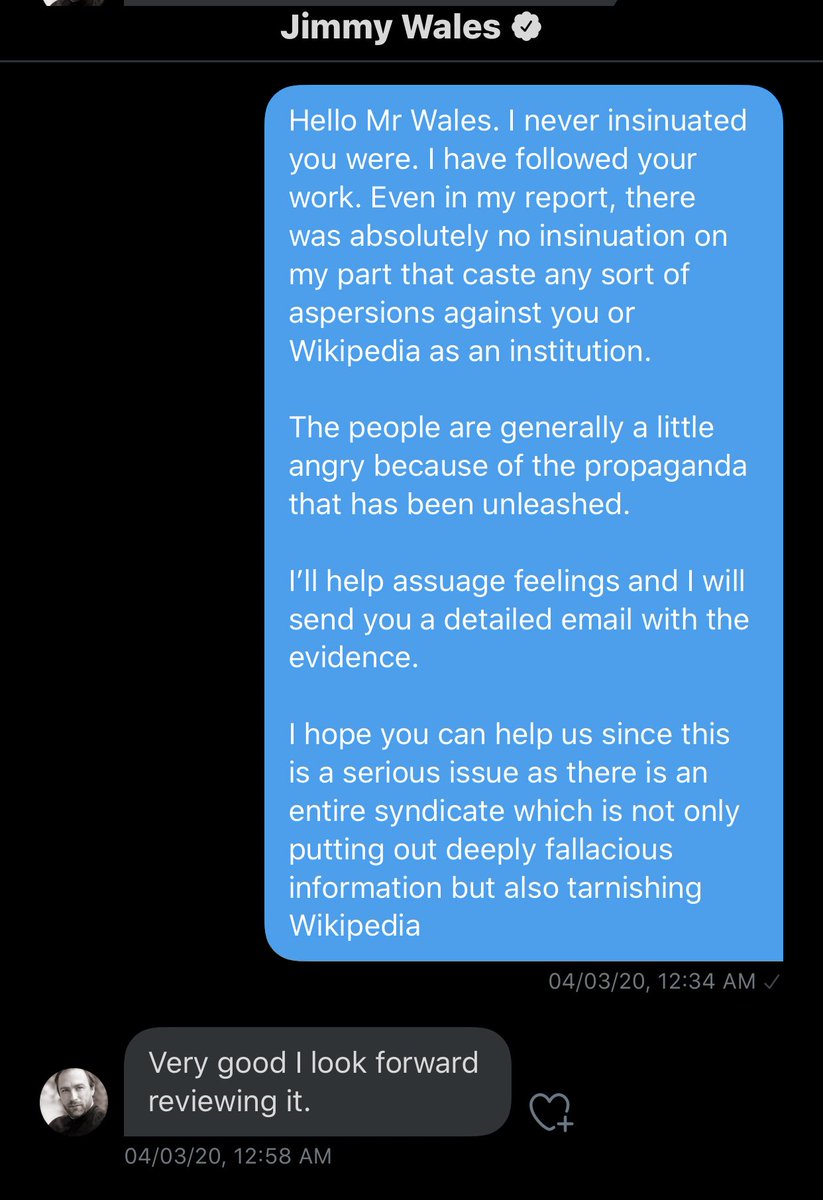 He has obviously not responded. Nothing has been rectified and to top it all, he is being brazen and abusive on twitter. Almost on a psychotic break. We assume that the issue is with the editors and biased employees. The rot starts right at the top. With @jimmy_wales Now, Willy is on an abusive spree, targeting me personally. If that's how you want to play it, Willy, it's fine. You might have he financial heft, but I am not done with this issue yet. Keep whining and abusing. But this is not over.
Source
Tweet Thread by Nupur J Sharma, Editor Opindia